Collar tags

Pet-ID provides a range of high quality durable collar tags to help identify your pet and get them back home to you if they go missing. Whether you choose from our classic brass or nicron (silver effect) range or one of our styled tags, you can be assured of the same great quality and make sure your pet stands out.
You're not limited to buying a tag for your dog or cat. Some of our customers also buy tags to attach to their horse's head collar or bridle and they make great keyrings too.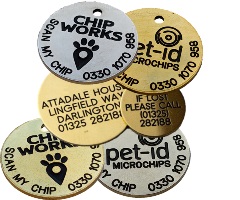 Classic collection
Solid brass or nicron (silver effect) round tags in two sizes, supplied with a high quality split ring to attach to your pet's collar. Deep engraving with a black resin infill to ensure visibility and durability.
Popular with customers whose pet's microchips are registered on Chipworks, one side of the tag is engraved with our logo and reunification telephone number and you can choose the contact information you want engraved on the other side. A version with the Chipworks logo is also available.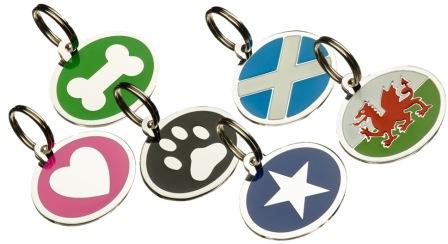 Styled collection
Enamelled oval tags with a mirrored shine finish and a range of exciting designs and colours in two sizes make for a highly personalised choice for your pet. We've only shown a small selection here but you can see the full range of styles and colours when you click "Order your collar tag" and select a size.
Once you've chosen your favourite option, specify the contact details you want engraved on the other side. Laser etching means that we can maximise the information you can put on the tag.
Order your collar tag *

* By clicking "Order your collar tag" you will be redirected to the collar tag purchase page on the Chipworks website.