Insurance for other pets

Pet insurance from Pet-ID doesn't stop at cats and dogs. We offer choice, flexibility, and a range of optional extras for species including birds, reptiles, tortoises and small mammals.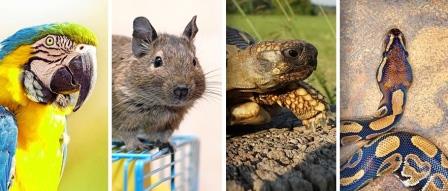 We all do our best to look after our exotic pets but you never know when your pet may become ill. Any sign of weakness in the wild would make them easy prey so exotic pets are known to hide their condition until they are very ill. Sometimes this can mean that hospitalisation and intensive care is required.
You'll want your pet to get the best possible treatment but the cost of vet bills can build up quickly and the specialised equipment and skills required in caring for exotics can mean increased costs. Pet insurance can help pay for the treatment your pet needs and help you avoid extra stress and worry.
Insurance plans
Cover section
Premier
12 months
(per condition)
Plus
12 months
(per condition)
Value
12 months
(per condition)
Veterinary fees
£5,000
£3,000
£1,000
Complementary treatment
(included in vet fee limit)
£500
£400
£300
Saying goodbye
(included in vet fee limit)
£100
£100
£100
Advertising & reward
(per year)
£150
£100
£50
Third party liability
£1,000,000
£1,000,000
£1,000,000
Death from injury or illness
– purchase price –
– purchase price –
– purchase price –
Loss from theft, fire
or weather perils
– purchase price –
– purchase price –
– purchase price –
---
* By clicking "Get a quote" you will be redirected to the Pet-ID quote and buy pages on the British Pet Insurance website.
Terms, conditions and excesses apply and may be varied at renewal.
No cover is provided for pre-existing conditions. Cover is available for reptiles and mammals from 8 weeks of age and for birds and testudines (tortoises etc.) from 12 weeks of age. For mammals, you must start the insurance before their 5th birthday, for reptiles before their 15th birthday, for birds before their 25th birthday and for testudines before their 30th birthday.
Pet-ID Microchips Ltd is an Appointed Representative of Petcover EU Limited. Petcover EU Limited trading as British Pet Insurance Services is authorised and regulated by the Financial Conduct Authority (FCA) under reference number 747757. Registered Office: 75 Western Road, Southall UB2 5HQ. Trading Office: 4 Bridge Road Business Park, Haywards Heath, West Sussex, RH16 1TX. Pet-ID Microchips Ltd is not part of the Petcover group.
This insurance is issued by Petcover EU Limited trading as British Pet Insurance in accordance with the authorisation granted to them under the Binding Authority Agreement with ETU Forsikring A/S. ETU Forsikring A/S, Registered Office: Hærvejen 8, DK-6230 Rødekro, Danmark is authorised and regulated by the Finanstilynet (the Danish Financial Regulator). Their Finanstilsynet authorisation reference is 108873. As an Insurance Company authorised within the European Union, ETU Forsikring A/S is permitted to conduct business within the United Kingdom and is authorised by the Financial Conduct Authority. Their UK Financial Conduct Authority authorisation number is 807534
Email: info@petcover.uk.com