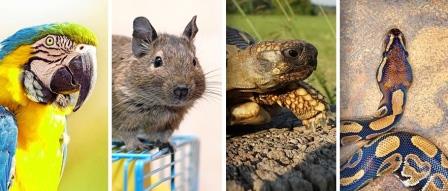 Pet-ID exotic pet insurance – frequently asked questions
Click on a question below for further information
General
Having pet insurance from Pet-ID allows you to budget monthly rather than having to cover the cost of unexpected veterinary bills. Did you know that more people claim against their pet insurance policy than on their household or car insurance? This just goes to show how important it is to ensure that your best friend has pet insurance.

Pet-ID has been providing pet insurance for over 20 years as part of our microchipping service. We're all pet owners so we understand what's important to our pet owner customers in the same way that we understand what professional implanters require from a microchip supplier. Pet-ID offers three insurance plans for exotic pets: Premier, Plus and Value, all covering the cost of veterinary treatment for up to 12 months for each illness or injury to ensure our customers have the choice of plans to suit their needs and budget.

If you have a query or would like a quote, you can call Pet-ID on 01444 708844. We're open Monday to Friday from 9am to 5pm.

Cover & plans
Pet-ID offers three insurance plans for exotic pets: Premier, Plus and Value, to ensure our customers have the choice of plans to suit their needs and budget. It's important to remember that under these plans each illness and injury will only be covered for either 12 months, or up to the maximum benefit, whichever is reached first. Should your exotic pet suffer from the same condition again you will not be able to claim for it once one of these limits has been reached.

Yes, all our policies include include Third Party Liability cover for exotic pets which covers pet owners for compensation, legal bills and the associated costs related to defending claims brought against them where they are legally liable.

Yes, all our policies include cover for vet fees, emergency repatriation, quarantine expenses and advertising and reward when you travel with your pet to any of the Agreed Countries specified in your policy terms and conditions.

Cover for injury will start immediately and cover for illness will start after 14 days. If you continue your 4 weeks free introductory cover without a break, cover for illness and injury will start immediately.

At Pet-ID we like to be as clear as possible to our customers, therefore any exclusion from cover placed on your policy will be stated clearly on your Certificate of Insurance. Before taking out your exotic pet insurance we will ask you about your pet's health and any prior illnesses or injuries they've had and based on that we will tell you if there are conditions we cannot cover. Like most other pet insurance companies, illnesses and injuries experienced before you start your pet's insurance will unfortunately not be covered. Your pet's previous medical history will not affect your premium. When you take out a policy you should always check your Terms and Conditions in conjunction with your Certificate of Insurance to see what is and what is not covered.

Yes, during your application we will ask you about your pet's health and any conditions, injuries and prior illnesses they've had and based on that we will tell you if there are conditions we cannot cover. These exclusions will be clearly stated on your Certificate of Insurance and will not affect the price of your premium.

We can provide cover for reptiles and mammals from 8 weeks of age and for birds and testudines (tortoises etc.) from 12 weeks of age. For mammals, you must start the insurance before their 5th birthday, for reptiles before their 15th birthday, for birds before their 25th birthday and for testudines before their 30th birthday. Once your pet is insured you can renew your cover each year regardless of age as long as there's no break in cover.

Our pet insurance policies are only available to residents of the UK, the Isle of Man and the Channel Islands.

Claims
To make a claim you'll need to complete the relevant claim form for the treatment or incident in question. Head to our
How to make a claim
page for more information including downloadable claim forms.
You must send us your claim no later than 12 months after the date treatment started for your pet's illness or injury.

We aim to process claims within a week. Please ensure we receive a fully completed claim form with all the information we need to avoid any delays.

Click
here
to download a Vet Fee claim form.
Yes, all our policies provide cover for complementary treatment which includes the cost of treatments such as hydrotherapy, acupuncture and homeopathic medicine. These need to be recommended by your vet, and we'll pay up to the maximum amount shown on your Certificate of Insurance.

Yes we can pay your vet directly if they are happy to receive payment in this way. Please indicate if you would like us to pay your vet on your claim form.

Yes. Please call us on 01444 708844 to request a copy of your claims history.

Paying for your policy
For a simple and stress free option, you can pay your premium monthly by secure Direct Debit. You can also make a yearly payment using your debit or credit card.

Your first payment will be taken around 14 days after you have taken out your policy with us. If you have any questions regarding your payment details or you wish to change the payment date please contact our customer service team on 01444 708844.

Premiums are carefully calculated so what you pay is fair and accurately reflects the likelihood of claiming. The species, breed, location and age of your pet are also some of the factors we'll take into consideration when calculating your premiums. Pet-ID does not penalise customers for claiming so premiums are not affected by whether you have claimed or not.

The cost of pet insurance can vary enormously and is dependent on a range of different things such as where you live, your pet's species, age, breed and most importantly, the product you choose. As pet insurance is so specific to each and every pet, there is no fixed cost to insure your exotic pet so it's important to make sure you do some research to find out which policy suits you best both in terms of cost and benefits. To decide which policy is right for you and your exotic pet, why not check out what insurance products Pet-ID offers and get a quote today.

Yes. If you have two or more pets, you are entitled to a multi-pet discount. Your pets don't have to be the same species, so if you have a tortoise and a bird we can still offer you a discount.

A responsible pet insurer wouldn't do anything to discourage customers from getting their dog or cat treated when they are unwell or injured. That's why when you make a claim we won't increase your premiums as a result and it's why we don't have a no claims discount.

* By clicking "Get a quote" you will be redirected to the Pet-ID quote and buy pages on the British Pet Insurance website.
Terms, conditions and excesses apply and may be varied at renewal. No cover is provided for pre-existing conditions.
Pet-ID Microchips Ltd is an Appointed Representative of Petcover EU Limited. Petcover EU Limited trading as British Pet Insurance Services is authorised and regulated by the Financial Conduct Authority (FCA) under reference number 747757. Registered Office: 75 Western Road, Southall UB2 5HQ. Trading Office: 4 Bridge Road Business Park, Haywards Heath, West Sussex, RH16 1TX. Pet-ID Microchips Ltd is not part of the Petcover group.
This insurance is issued by Petcover EU Limited trading as British Pet Insurance in accordance with the authorisation granted to them under the Binding Authority Agreement with ETU Forsikring A/S. ETU Forsikring A/S, Registered Office: Hærvejen 8, DK-6230 Rødekro, Danmark is authorised and regulated by the Finanstilynet (the Danish Financial Regulator). Their Finanstilsynet authorisation reference is 108873. As an Insurance Company authorised within the European Union, ETU Forsikring A/S is permitted to conduct business within the United Kingdom and is authorised by the Financial Conduct Authority. Their UK Financial Conduct Authority authorisation number is 807534
Email: info@petcover.uk.com